THE GUN DEBATE: New Political and Court Challenges Likely on the Horizon
February 22, 2018 1 Comments
By: Dave Rogers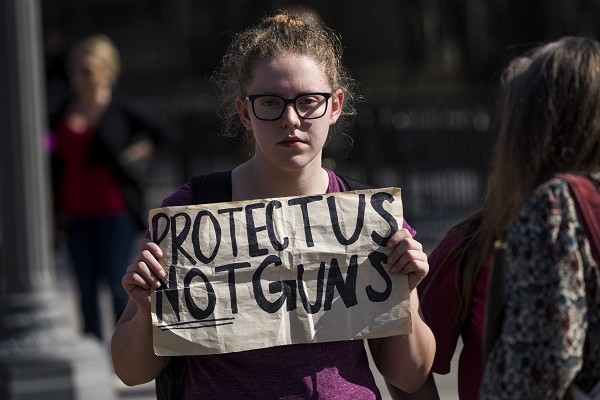 Interpretations about the Founder's meaning of the Second Amendment in the U.S. Constitution have been wildly varying throughout the life of the Republic -- some 237 years.
It seems to this corner that because of apparently uncontrollable aspects of human nature, the Second Amendment's interpretation by the National Rifle Association supporting unfettered access to any type of weapon by almost anyone may soon be up for new court challenges.
Some activist youth are in the forefront of what may become a political movement unseen and unparalleled in our time. This has been spawned by the recent Florida school shooting, one of a long list of such mass tragedies.
As we see it the protesting students and their adult advocates may likely base their court challenges on the statements in the preamble to the Constitution asserting: "We the people of the United States, in order to ensure domestic tranquility and promote the general welfare do ordain and establish this Constitution for the United States of America."
The case may revolve around the issue of whether current policy on guns, made admittedly by politicians influenced (some would say bribed) by hefty campaign donations from NRA, meet the Constitutional test of promoting the general welfare and ensuring domestic tranquility.
The NRA's tortured reasoning in suggesting remedies (such as arming teachers) is so inadequate that it may be the spark that will create a rival group whose donations will level the currently uneven playing field in Congress. That seems to be the American way today. Money talks and bs walks, as the saying goes.
Being a gun owner, a longtime hunter and former NRA member, this columnist opposes any more government control over personal ownership of guns than is absolutely necessary. But absolutely no control may not be a good public policy in keeping with the Constitution. That will be the knotty question for the courts to untie; this will be a lengthy and contentious debate, as it should be.
Public polling finds a vast array of divisions. About four-in-ten Americans say they either own a gun themselves or live in a household with guns, and 48% say they grew up in a household with guns, according to a new Pew Research Center study.
At least two-thirds of adults say they've lived in a household with a gun at some point in their lives, the Pew polling found. And roughly seven-in-ten -- including 55% of those who have never personally owned a gun -- say they have fired a gun at some point.
While gun owners and non-owners have significant differences in views about gun policy, they agree in some areas. For example, large majorities of both groups favor restricting access to guns for individuals with mental illnesses and those who are on federal no-fly or watch lists. Gun owners themselves have diverse views on gun policy, driven in large part by party identification.
When the Constitution was written there was no conception that terrible multiple-round weapons like assault rifles would ever be a consideration. And that morons intent on carnage and murder would be lurking behind almost every tree. Those facts only validate the general principles of the Constitution regarding domestic tranquility and the general welfare that have undying value to our society.
###
---
---

Dave Rogers




Dave Rogers is a former editorial writer for the Bay City Times and a widely read,
respected journalist/writer in and around Bay City.
(Contact Dave Via Email at carraroe@aol.com)

More from Dave Rogers
---
Send This Story to a Friend!
Letter to the editor
Link to this Story
Printer-Friendly Story View
---
--- Advertisments ---