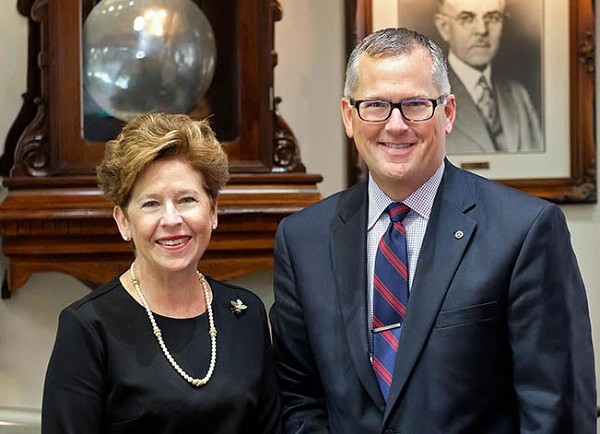 Thomas Hiss Tabor and his sister, Barb at their iconic Herman Hiss & Co. jewelry store that has remained a landmark for 150 years in downtown Bay City.
---
DOWNTOWN'S FUTURE: Millennials Drive Growth, Says Hiss Jewelry's Tom Tabor
March 12, 2018 Leave a Comment
By: Dave Rogers
The heir to 150 years of business success in downtown Bay City, Thomas Hiss Tabor, sees a bright future for Bay City, one of Michigan's thriving downtowns.
He sees the future being driven by millennials and the increasing numbers of people of all ages who are moving into retrofitted retail and commercial buildings like the Times Lofts, Shearer Building, Bay City/Chemical Bank, and now the Davidson Building, a landmark on Washington Avenue for 90 years.
The iconic jewelry firm at 905 Washington Avenue is unmistakable with its Dickensian era outdoor clock, glass and antique lettered signs.
It's inside that counts, says the firm's president, exclaiming: "Customer service!"
Selling jewelry and gifts may seem an easy task, but his daily preparation to greet streams of legacy customers, treating them right and finding just the product that suits them begins at 5 a.m. with a workout at the Dow Area Family Y or a breakfast with the Morning Rotary Club at the DoubleTree Hotel-Bay City Riverfront.
There are gift shows, jewelry shows, classes and endless research to stay abreast of trends in the industry and be ready to give customers what they want in a changing retail landscape.
His career started as a boy, making boxes and tying bows in the basement. "It only took me 32 years to go from the basement to the main floor," he quipped.
He never regrets leaving Hillsdale College after two years to focus on his gemological studies and work in the store. "I knew I wanted to be here," he exclaimed, joining his father Thomas Tabor Sr. and mother Sally Hiss Tabor. His sister, Barbara Tabor Bosco came on board after graduating from Northwestern University and a stint in the banking industry, and now is vice president and heads the gift department. At that time there were eight jewelry stores; they fell away one-by-one in the progression of time and trends, leaving just Herman Hiss & Co. standing alone in the downtown field.
Malls that proliferated have faded and online sales have become a new challenge. What can Herman Hiss offer that you can't get online? The aforementioned customer service plus a history of repeat family buyers stretching back two or three generations. The firm's honesty and integrity is rewarded by strong customer loyalty.
In its 150 years in business, Hiss's was constantly in the minds of readers through regular articles in local newspapers. I 1917, Herman Hiss advertised: "Our motto; what we say it is, it is. Our word: Good as a bond."
Herman Hiss in the early days of the firm was Bay City's leading optometrist, a profession he reportedly followed for 30 years.
Herman made headlines in the Bay City Tribune in 1911 when some young boys brought in pearls they had recovered from a clam bed in the river; Mr. Hiss pronounced them real, but most of the minimal value, perhaps for use as stickpins worth 25 or 75 cents each. One pearl, however, Mr. Hiss proclaimed the finest he had ever seen. The boys did not reveal the location of the beds where the pearls were found but were determined to start a pearl raking business, according to the newspaper report.
###
---
---

Dave Rogers




Dave Rogers is a former editorial writer for the Bay City Times and a widely read,
respected journalist/writer in and around Bay City.
(Contact Dave Via Email at carraroe@aol.com)

More from Dave Rogers
---
Send This Story to a Friend!
Letter to the editor
Link to this Story
Printer-Friendly Story View
---
--- Advertisments ---