Michigan Idol Competition Can Be Musical Career Stepping Stone
January 26, 2012 Leave a Comment
By: O. J. Cunningham
Click to play PODCAST: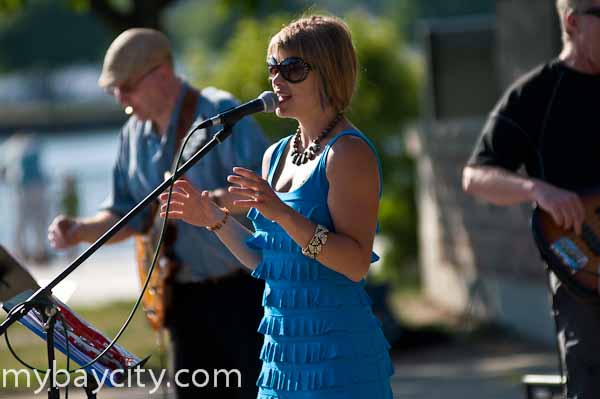 Sarah Schingeck (Michigan Talent/IdolWinner) now performs with her band, Sarah and the Groove -- Pictured here in July 2011, opening act for the Eagles Tribute Band at the Wenonah Bandshell in Downtown Bay City.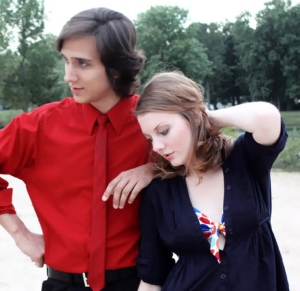 Lauren Thomas (MI Talent Finalist) -- The Full Catastrophe -- Thomas (Right) is the lead vocalist, while partner, Marc Kelley plays guitar, keyboards and provides additional vocals. The duo are currently based out of Grand Rapids, MI.
Steve Armstrong, Dani Vitany, Sarah Schingeck, Micah Read and now Matt Ryan all have something in common.
At the beginning of their respective musical careers, each of these local performers claimed a Michigan's Got Talent/Michigan Idol singing title (Organized by MyBayCity) at either Willew Lounge (In 2012) or at Art Dore's Stables in the years previous.
And the parade of singers continues each Wednesday night at Willew Lounge on Midland Road (at Two Mile). Young singers with a dream rock and strut their stuff in front of local judges to claim prizes but to also get the experience to move forward with their singing careers.
It all started in Bay City during the summer of 2007.
Art Dore was looking to promote his newly-remodeled Stables Martini and Cigar Bar on Bay City's West Side.
O.J. Cunningham & MyBayCity were "new on the scene" and looking for high-energy nightlife activities to promote in their fast-growing online newspaper.
Music Man, Dougie Dore had an open night on his calendar for the Summer.
And the "American Idol" fever (on television) was at a high pitch.
These forces all came together to create a highly polished karaoke competition with knowledgeable judges and substantial prizes along with online voting and youtube video . . . and "Michigan's Got Talent" was born and running at full speed by week three of the competition.
Over the next four years, hundreds of talented wannabe singing stars passed in front of the judges and the MyBayCity cameras as the crowds grew bigger and bigger every Thursday night at The Stables inside of what is now BARTS on Bay City's West Side.
| | | |
| --- | --- | --- |
| Armstrong Sang | Armstrong Smiled | Armstrong Won It All |
In the Summer of 2007, sometimes as many as 25 singers would parade their "stuff" in front of judges at the Stables on Thursday night. Big-name musicians like Mike Sheets, Carrie VanDell, Ron Graham and Tommy Anderson as well as personalities like Dick Bork, David Bernreuter, George Lynch, Kathy Lagalo, Mike Bacigalupo, John Buehl and LastChoiceCountry's Josh Sharrow sat on the couch at Stables week after week . . . offering advice and "constructive criticism" for budding singing stars.
The Prize: A singing performance at the upcoming August Pig Gig. A chance to compete on the "Big Stage" with five "finalists" for the opportunity to be the opening act for the Sunday night Pig Gig Finale.
And when the dust settled that first summer in early August 2007, Steve Armstrong stood alone as the King of Michigan's Got Talent/Michigan Idol competition.
As MyBayCity reported in 2007 . . .
Armstrong strolled the big stage at the Vet's Park PIG GIG like he owned it, flashing smile after smile after smile. Armstrong pointed to fans in the crowd like he'd had a beer with every one of them.

During his performance, Armstrong interacted playfully with Judge Carrie VanDell. He was everywhere. His smile and his voice filled the late afternoon air. It's hard to see how he can fit all that activity inside a 3-minute performance.

And in the end, it was no doubt this easy-mannered, yet carefully choreographed stage mastery that earned Armstrong the Title.
Armstrong has continued with great success with his group -- "Steve Armstrong and the 25cent Beer Band -- and has become one of the premier country performing bands in all of Michigan,

Each of these Michigan Idol/Michigan Got Talent singers have gone on to successful singing careers in Michigan, Florida and on the National Music scene.(Left to Right) Kate Gembrowski, Jenna Moeggenborg, Micah Reed and Taylor "Dani" Vitany.
Most recently, Matt Ryan (Matt Ryan Band) and Tim Bruski each took home the title Michigan Idol Winner, but what was more important to Ryan was the studio time he won with Andy Reed from Reed Recording Company.
Ryan also won a spot as a opening act at Collin Raye concert at The State Theater in Downtown Bay City last September.
Ryan, said, "Thanks so much to everyone for all the support!! I am calling Andy Reed tomorrow to setup a date to schedule our studio time to get in and get some originals recorded!"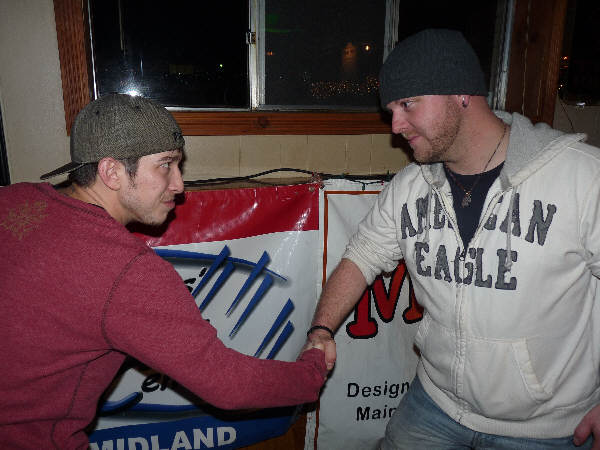 Tim Bruski (left) and Matt Ryan have both won recent Talent/Idol competitions at Willew Lounge.
CURRENT SINGER/PERFORMERS
Performers -- January 25, 2012 -- Play PODCAST ABOVE -- (Left/Right) Brandy Adams, Amanda Glashauser, Travis Paten, Stephanie Petrimoulx, Renee Pawloski, Allie Shermetaro and Morgan Hawkins.
(MyBayCity Photo by OJ Cunningham)
Performers -- January 25, 2012 -- Play PODCAST ABOVE -- (Left/Right) Jada Archer, Jesse Fisher, Raelyn Hawkins, Brandon Hetzner, Fred Waibel, Chuck Kirkbride and Mariah Simone.
(MyBayCity Photo by OJ Cunningham)
Current competitors are going head-to-head for eight more weeks and event organizer and Emcee Josh Sharrow says there's still plenty of time to get in on the action.
"Top prize is a 50"+ Big Screen TV plus games and a game player," Sharrow pointed out. "There's still time to enter," Sharrow said. "Come on down to the Willew on Wednesday and check it out."
---
---

O. J. Cunningham




O. J. Cunningham is the Publisher of MyBayCity.com. Cunningham previously published Sports Page & Bay City Enterprise. He is the President/CEO of OJ Advertising, Inc.

More from O. J. Cunningham
---
Send This Story to a Friend!
Letter to the editor
Link to this Story
Printer-Friendly Story View
---
--- Advertisments ---