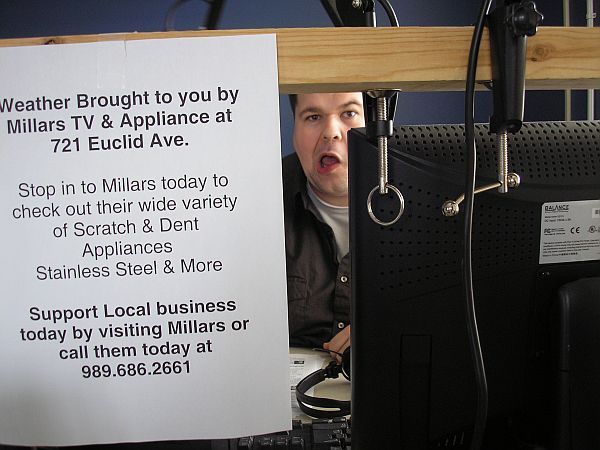 Josh Sharrow Sets a Humorous Tone at Last Choice Country Radio
---
Look Mom! I'm a Radio Co-Host!
Rock Meets Country at Last Choice Country Radio
March 18, 2012 Leave a Comment
By: Diane Szczepanski
Click to play PODCAST:
WARNING: THE ABOVE PODCAST SHOWCASES THE WORK OF A COMPLETE AND UTTER AMATEUR CO-HOST...LISTEN AT YOUR OWN RISK...
When you're going to take a vacation day off work, my motto has always been to "make it count."
I have to say, I surely did on this one.
In recent months, I've been fortunate enough to learn about a variety of cool things and meet MANY interesting people in my 'Look Mom! I'm a___' (fill in the blank) series.
To date, I have gotten the opportunity to see what its like to be a coffee barista, henna tattoo artist, drummer, chocolatier, co-pilot, massage therapist, make-up artist, chainsaw wood carver, bartender, and beer bottler.
Without fail, I've met really nice people, who run great businesses, have wonderful artistic talents or both.
When Josh Sharrow, radio personality at
Last Choice Country Radio
, suggested I come to the station and be Co-Host for a morning with him, I was intrigued.
I knew it would fun and I would get to learn more new things and have a new experience. Being acquainted with the guys well, I KNEW I would have a few laughs.
It
was
with Josh and Shawn, after all.
But, when I realized I could coincide it with the arrival of Vancouver based band '
Like Storm
' and would get a chance to interview them before the private show I was having later that night, I jumped at the opportunity.
Then I got nervous.
So, I called in a favor to my friend to help me out.
John Bellsmith
, who has impressive knowledge of the rock music scene, as well as years of radio experience with the '
Hairball John Radio Show
'.
He agreed. So, I took the day off and looked forward to a morning 'working' out of my normal element.
Way out.
---
Radio listeners get to know a little more about the band 'Like A Storm'.
At Josh's request, I arrived early to sit in on the '
Josh and Shawn Show
' in the morning. After a short-debriefing and a hefty refill of coffee, I was told my first assignment was to read a story on country band, 'Lady Antebellum.'
Now, I'm a good reader and have never been self conscious about reading aloud. But, after listening to Josh and Shawn and how easy their banter comes about, I was a little concerned how to read it, without it SOUNDING like I was reading it and whether I could keep up with their back and forth repartee.
I was also surprised at all the fast breaks, trying to squeeze in tidbits of entertainment or an advertisers commercial.
It's a little intimidating to see how everything runs on such tight programming, with little room for error and how effortless Josh and Shawn make it look.
My next assignment at the 10am break, was to take over Shawn's chair and read the weather. But first, I was to read the sponsors portion, THEN the weather, and conclude with whose music was up next.
Shawn had made it look easy and everyone knows how to talk about the weather. Right? It's a human staple to be able to comment on weather. Maybe I could do this.
Well, I have to say, I didn't do too bad, I even managed to ad-lib a little, but Josh did have to prompt my attention over to the final screen to announce the upcoming music.
Just 3 steps to remember and I bobbled it. It's a lot harder than it looks and I think just having read that it was going to be only 15 degrees out that night, threw me momentarily!
Check out my debut into radio by listening to the podcast at the beginning of this story.
After a couple more brief interjections with Josh and Shawn during short musical breaks, I observed for awhile and then as the clock neared 11:00 am, I started pacing.
Because in a just a few, short moments, band members and brothers, Chris, Matt and Kent Brooks, from rock band
Like a Storm
, would be heading up the steps of the station for their time on air with me and the gang.
---
Brothers, Matt, Chris and Kent Brooks, of 'Like A Storm' perform an acoustic version of 'Chemical Infatuation'.
Although I had met the guys a couple of times already, and had them in for a private show last May and knew how down to earth they are, there was still something exciting and a bit unnerving about seeing them again.
My reasons for calling on the help of 'Hairball John' (www.hairballjohnradio.com) to come to the station were two-fold. As my friend, as well as a friend of the station, I knew he would bail me out if I succumbed to being reduced to a drooling pool of starstruck slobber. He was also in attendance at their last show, so he knew their music.
---
Guest host, Hairball John and host Josh Sharrow, ask Matt Brooks about their home country, New Zealand.
---
Talking about future musical plans of 'Like A Storm'.
It was an interesting process to watch an on-air interview and accompanying acoustic song. Other than one comment I made, John and Josh did the bulk of the interview and kept the conversation flowing.
Although, I did manage to keep the drooling to a minimum.
Chris, Matt and Kent are no strangers to the interview circuit. They obviously felt at ease going thru the process. They joked and talked with ease. Matt later went on to read the weather at another local radio station and he really well!
We were also lucky enough to have them play an acoustic version of 'Chemical Infatuation' on air, complete with the hypnotic didgeridoo prelude.
Check out the podcast of their musical performance and a more complete band history, in this mybaycity.com edition, in the story '
Musicians Come In 'Like A Storm
---
Chris Brooks, left and Kent Brooks, right, tell us about their private acoustic show tour they are currently on.
All in all, the whole radio experience was very fun and extremely interesting. Maybe they will have me back someday, I think I'd like to give it another shot.
Next time, I won't be so nervous. I'll just make sure there aren't talented, good-looking, young rock stars in the same room!
Maybe...
---
From left, getting our "rock" on, JuJu McCool, Kent Brooks, Diane Szczepanski,
Chris Brooks, Matt Brooks and John 'Hairball' Bellsmith.
---
---

Diane Szczepanski




Business-woman by day, confessed boot addict by night and 'wanna-be' writer, music lover and proud Mom of an awesome guitar playing, teen son.

More from Diane Szczepanski
---
Send This Story to a Friend!
Letter to the editor
Link to this Story
Printer-Friendly Story View
---
--- Advertisments ---