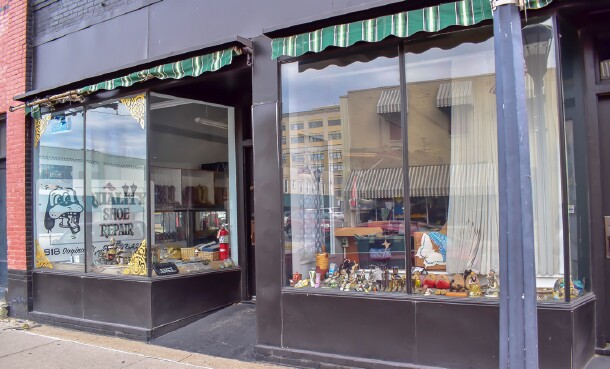 Bay City Cobbler Providing Customers With Quality Shoe Repair
In Collaboration With ... ThroughThese4Eyes.com
October 22, 2018 1 Comments
By: C. J. Miller
As Americans, we take a lot for granted. Since so many of the products we buy are so readily available through retailers we tend to discard what was once good, but now is broken or worn out. We tend to think that because something is old and there's something new available we no longer need the old product, and desperately need the new one. It's been ingrained in our psyches as Americans over the last few decades.
However, that wasn't always the case.
America was built on the blood, sweat, and tears of immigrants who came to our country with nothing but the clothes on their backs, the American Dream in their hearts, an old-world work ethic, and craftsmanship and skills they obtained from their countries of origin. Those immigrants earned their living making and repairing products that we once lined up to buy or have fixed. They may be fewer and farther between now, but they still exist.
In Bay City, you'll find one such craftsman who originally immigrated from Mexico. His name is Santa Valdez, and he is the owner of Quality Shoe Repair at 818 Saginaw St in the heart of downtown.
Valdez, a soft-spoken man in his late 50's, began to hone his craft as a cobbler in Mexico City at the age of 14 with his older brothers as part of a family trade.
"I was going to school in the mornings and went to the shop on nights and weekends. That's how we started. So, most of my life I've been working on shoes," Valdez explained.
As a young man Valdez later immigrated to Chicago where he continued to work as a cobbler for someone else for over two decades and master his craft.
Having moved to Bay City six years ago with just the clothes on his back and the money he had saved from working in Chicago, Valdez bought part of what once was the Fabric Fair store.
Opening his own shoe repair store has been Valdez's lifelong dream. Despite having seen changes in the shoe repair industry over the last several decades due to the price of new shoes he can't imagine doing anything else.
"In Mexico City we used to have one shoe repair place on every block. I believe here in Bay City we used to have like five shoe repair stores, but now this is the only one left," Valdez told me.
According to Valdez the secret to his longevity and success is simple.
%q$We've been doing this for almost 40 years. We just keep giving good service to every customer, and we just continue growing," he said proudly.
Valdez, whose family still resides in Mexico and Chicago, runs the store pretty much on his own with one exception. He has no plans for retirement any time soon but keeps the future in the back of his mind.
"For now, I just have a part-time apprentice working here with me. In the future, he'll be a full-time person that helps me and will continue working here."
I asked Valdez what he likes most about repairing shoes and being an old-school craftsman, his answer was not surprising.
"I really like to work on the ones that are really messed up. That way I can show people that I can do good work. I try to give customers my best, and they are impressed on how I can turn a bad shoe into good shoe," he replied with a tinge of pride.
Valdez also does custom work for customers with special needs as well.
"We get a lot of orthopedic repairs. We get people who need a lift on a shoe or some kind of adjustment."
Shoes aren't the only things Valdez repairs either.
"We repair leather jackets. We can do linings to zippers, and repair cuffs or collars. We can re-dye them."
"We can custom make leather belts. Anything made out of leather, we can customize it" or copy it; or repair it," he continued.
Valdez wants people to know that it's worth their time to come in and see for themselves what he has to offer.
"The only thing I can tell people who have never had shoes repaired is don't expect to spend a lot of money on repairs. My repairs are very fair compared to the price of new shoes. Don't ever be afraid to come into a shoe repair shop and ask about prices," he concluded with a soft smile.
As someone who has had my boots and shoes repaired by Mr. Valdez, I can honestly say that his craftsmanship, attention to detail, and his prices are second to none that I'm aware of. His kind-hearted demeanor and his friendly service make him a true Bay City gem. I highly recommend the next time you need some leather repair done or are thinking about tossing out an old pair of shoes that you stop in and see him. He'll make what was once old new again and save you a lot of money in the process. He's proof that quality service and craftsmanship still exist.
For store hours and more please visit him on Facebook at
Quality Shoe Repair
.
This article is a collaboration with ThroughThese4Eyes.com
and is published by special arrangement
---
"The BUZZ" - Read Feedback From Readers!
reahlberg Says: On October 30, 2018 at 10:06 AM

I have been to this repair shop on several occasions and this Gentleman is always kinds and prompt with his service. He fixes a lot of other things than just shoes. Very nice to have a business like that in Bay City and a run by such a kind person.
---

C. J. Miller




A self-professed man of many words, C.J. tells the "good news" about Bay City and its surroundings.

More from C. J. Miller
---
Send This Story to a Friend!
Letter to the editor
Link to this Story
Printer-Friendly Story View
---
--- Advertisments ---