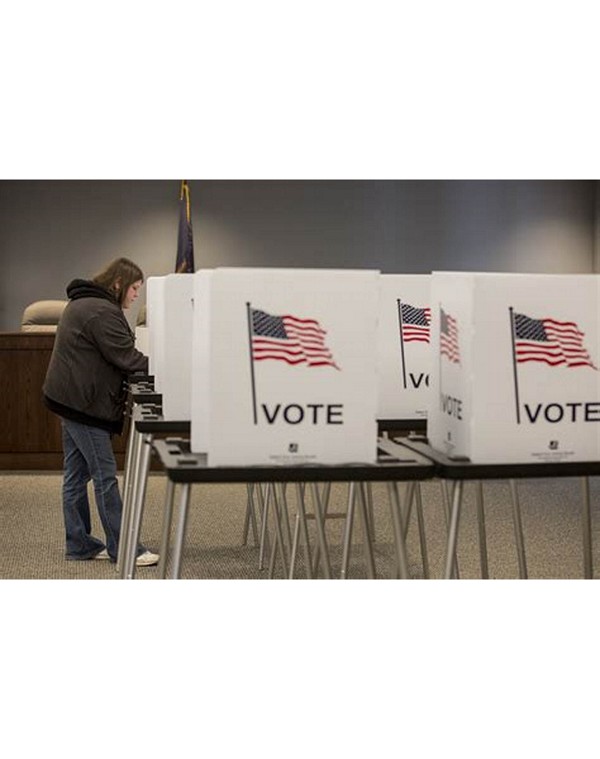 VOTING CHANGE DUE? Poll Shows Same Day Registration Favored
Legal pot, Dem Sweep, End to Gerrymandering Seen
October 26, 2018 Leave a Comment
By: Dave Rogers
Time to shake the bushes, Michigan voters are telling pollsters.
But don't count out the conservatives yet, caution political seers.
Informal reports gleaned by this columnist may upset the applecart as a lobbying group "Protect My Vote" of Okemos is out with a last-minute attack on Proposal 2 as a "Liberal Joke" to raise taxes.
Former President Barack Obama and former Attorney General Eric Holder are shown in photo-shopped style with dollar bills floating around them. "Left-wing groups and liberals are trying to intervene in our elections," states the glossy flier.
The Detroit News reported: "A conservative group with ties to the powerful DeVos family of West Michigan is pumping at least $1.2 million into an effort to fight a ballot measure for an independent redistricting commission."
The proposal's support group, however, states: "If passed by voters, the proposal would constitutionally enshrine straight-ticket voting and post-election audits; automatically register Michiganders to vote when they visit a Secretary of State office unless they opt out; allow more time for residents to register to vote before an election, including on Election Day; and allow a state resident to vote by absentee ballot without needing to first declare a reason."
With mid-term elections less than two weeks away, Democrats appear to lead in two in top-of-ticket races, the latest results from Michigan State University's State of the State Survey indicate. Michigan's attorney general race is likely too close to call, results show.
Three ballot proposals - to legalize the sale and use of marijuana, allow a citizen commission to redraw Michigan's voting districts and to broaden voting registration and absentee balloting -- appear on their way to approval in early responses to the latest survey.
The results were announced Friday during the State of the State Podcast. The podcast is a production of MSU's Institute for Public Policy and Social Research (IPPSR) and WKAR.
In Michigan's gubernatorial race, Democrat Gretchen Whitmer appears to lead Republican Bill Schuette 47 percent to 39 percent, respectively, in State of the State Survey (SOSS) interviews conducted Oct. 13-Oct. 22.
Democrat Debbie Stabenow leads Republican John James 49 percent to 42 percent, respectively, SOSS results show.
Republican Tom Leonard is outpacing Democrat Dana Nessel 40 percent to 37 percent, respectively, in SOSS responses. "That puts them within the margin of error and extremely close," said SOSS Director Charles Ballard, MSU economics professor.
The results include respondents who were undecided when first asked who they would vote for, but made a choice among major party candidates when asked a second time.
Ballard called for caution in reading the earliest responses to SOSS, the state's only survey to tap the opinions and attitudes of Michigan citizens on a regular basis.
The analysis is early, based on respondents reached this month, he said. The survey doesn't screen for likely voters.
Despite these results, leads can evaporate as elections near, he cautioned. "As always, turnout will make the difference. In elections, a week and a half is a very long time."
"My read of past experience is that if there is a swing in the final days, it is often in the conservative and Republican direction."
In ballot races:
· Proposal 1, legalizing recreational marijuana, was ahead 58 percent "yes" to 37 percent "no."
· Michigan adults favored Proposal 2 calling for voting districts to be drawn by a citizen commission rather than Michigan's Legislature, 42 percent "yes" to 32 percent "no."
Proposal 3, known as "Promote the Vote" to allow for election-day registration and no-reason absentee voting, drew 68 percent "yes" choices and 19 percent "no."
Each State of the State podcast features two IPPSR directors and a guest whose research focuses on a timely topic. This month's podcast features Ballard, Interim IPPSR Director Arnold Weinfeld and Zachary Neal, MSU associate professor of psychology and global urban studies.
Neal's most recent research focuses on the depth and extent of political polarization. See more about his research at https://msutoday.msu.edu/news/2018/democrat-republican-divide-is-worst-its-ever-been/ His website can be found here: https://www.zacharyneal.com/
The policy-focused State of the State podcast is carried over iTunes, SoundCloud, and radio stations throughout Michigan.
IPPSR is a unit of MSU's College of Social Science and specializes in policy education, political leadership, and survey research. In addition to SOSS, it is home of the Michigan Political Leadership Program, Public Policy Forums and Office for Survey Research.
Find IPPSR at ippsr.msu.edu and @ippsr over Twitter.
###
---
---

Dave Rogers




Dave Rogers is a former editorial writer for the Bay City Times and a widely read,
respected journalist/writer in and around Bay City.
(Contact Dave Via Email at carraroe@aol.com)

More from Dave Rogers
---
Send This Story to a Friend!
Letter to the editor
Link to this Story
Printer-Friendly Story View
---
--- Advertisments ---