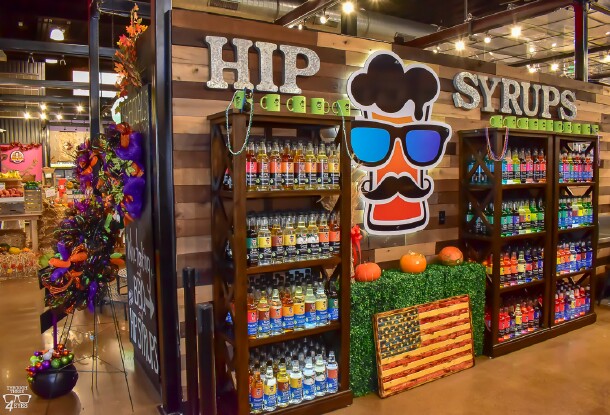 Hip Syrups Bringing Its Craft Products Back Home Again
October 30, 2018 Leave a Comment
By: C. J. Miller
Jeff Doan, Lauren Molitor, Joe Caudy
You have to love Bay City. Once it is in your heart and mind there's no escaping it. It's a place where you feel right at home. Although Bay City has had many ups and downs, it has persevered time and time again. It's changed just enough to satisfy the needs of those that live here and continues to grow in a number of ways socially and economically with new businesses, by either getting their start here or returning here. The latter is the case with
Hip Syrups
and its founder
Walt Reynolds
.
Jeff Doan, Public Relations Director for Hip Syrups and a long time business acquaintance and friend of Walt, has been with the company for two months. They recently opened a retail location in City Market.
"Real Flavors is the parent company of Hip Syrups and has been in existence for about 10 years. It started in a little 500 square foot apartment in Bay City, and through an investor, moved it down to the Detroit area, where it's been for the past eight years before we bought the Albert Kahn Building in Bay City on Washington. Now everything from sales, manufacturing, and distribution is all done under one building," explained Doan.
"The First thing that we're proud of at Hip Syrups is that it is an all-natural product. Also, everything we can get from the state of Michigan, from the fruits to the local sugars, we do. We are a Michigan based company. We pride ourselves by using as many Michigan made products that are available. We use the highest quality sugars. High fructose corn syrup is non-existent in our products. It's gluten-free. It is just a really pure product," Doan told me.
"There's a lot of brainstorming that goes into just making the right product. Then comes what Joe (Caudy) and I enjoy most, which is the taste testing portion. We have people from 17 years-old to 58 years-old that all have to agree that that flavoring hits the pallet just right. So, we go through many trials on these flavors before it actually becomes a finished product."
Hip Syrups products can be used for a wide variety of things.
"We start with our fruit-based syrups that can be used for cooking. They can be used with sparkling water or regular water. A lot of people like protein shakes, but they don't like the taste of them. You can put a half ounce of peach or any of our other flavors in there and turn it into a shake you look forward to drinking in the morning. We have slushies that are also sold here in City Market that are available with our product. They can be used for everything up to and including adult beverages," said Doan.
Joe Caudy, Hip Syrups Sales Manager, who was a former sign salesperson before taking the job at the company, remembered the first time Walt brought him into the factory.
"I was selling a sign to Walt for the new building, and when he invited me inside I was shocked by the smell and the aura and the intensity of the room. I said "Wow, this feels like Willy Wonka's candy factory!", because it smelled so good. So, I became interested immediately and Walter, this big lovable guy, just told me about it and we kind of hit it off, and before I knew it I was sitting in his office signing papers to come work for him."
Walt Reynolds, 35, is the founder of Real Flavors and Hip Syrups, and creative genius behind the products. He is a person with a keen business sense and has a chemistry degree from the University of Michigan.
"Walt's parents live in Bay City, and he wanted to be back and closer to them. He grew up in Bay City, so he wanted to give back to the community that was very good to him as a youth," Doan said explaining why Walt brought the company back to Bay City where it originated.
When I asked Doan why he enjoyed working for the Hip Syrups so much he had this to say:
"The work atmosphere that we have number one. Walt is truly a unique, one-of-a-kind business owner. I've never seen someone who has been so caring, and so supportive of his staff. The knowledge that he has is bar none."
Doan continued, "The unique thing about Walt that drew me into this company is with his chemistry background, he knows how to formulate these products. Then he's got a marketing genius that is so uncommon in a chemistry major that the two things together, along with a big kid personality, make him a wonderful person to work for. He's very embracing to the staff. You feel very comfortable and very appreciated on a daily basis. There really is no substitute for waking up in the morning and being excited about going to work."
"There's a side of him that acts 50 and there's a side that acts 21, and we love both aspects of him," Caudy said with admiration and respect.
According to Caudy, Walt is a burst of energy. "Walt's day consists of, on a slow day, 18 hours, and on a busy day 20 or 21 hours. He'll get a nap and about three hours sleep at night because he just pushes the go button. He wakes up in the morning and he's ready to go. He's got big plans that he continues to push the button to make them happen. People feed off the energy that he exudes every day. That's just a fun atmosphere to work in," he said admiringly.
"Walt is a giver. He gives back to the community. He gives back more bar none than anyone else you've ever seen, and the one thing he prides himself on is giving people chances. I think we have two or three staff members who don't have a high school diploma, so he brought them in and trained them so if they do move on from the Real Flavors world they have the experience, knowledge, and the mindset to do that," Doan continued.
Doan and Caudy have also begun to realize their aspirations to bring Hip Syrups to the next level by turning their products into the next big fundraiser.
"Not only are we allowing this for distribution commercially and retail purchasing, but Jeff and I are also part of another joint venture of Real Flavors and Hip Syrups called "Fundraising Pros". We have the domain www.fundraisingpros.com and we plan to take the area and eventually the world by storm by turning this into a product for fundraising. We have your typical popcorn, cookies, and chocolates that we all like, but now we're going to introduce the world to our syrups," Joe concluded.
Lauren Molitor, Hips Syrups Mixologist in City Market, who has only been with the company for a little over a week said, "I was only supposed to fill in one day here at the Market, and then I met Walt and everybody and decided I wanted to be here full time. Everybody here in the Market is fantastic. Walt, Joe, and Jeff stop by on a regular basis because they care about what's going on here which I feel is refreshing in a retail place. I really love working here, and the flavors are really good. I get to try them every day."
As Bay City continues to grow in new and exciting ways, companies like Hip Syrups are proving this is a wonderful place for them to grow and expand along with it. When fresh ideas and ventures continue to expand and multiply through our once struggling economy it is easy to see the bright future that lies ahead for Bay City. It's all thanks to those with the vision and perseverance to help make Bay City great again. People like Walt Reynolds.
This article is a collaboration with ThroughThese4Eyes.com
and is published by special arrangement
---
---

C. J. Miller




A self-professed man of many words, C.J. tells the "good news" about Bay City and its surroundings.

More from C. J. Miller
---
Send This Story to a Friend!
Letter to the editor
Link to this Story
Printer-Friendly Story View
---
--- Advertisments ---