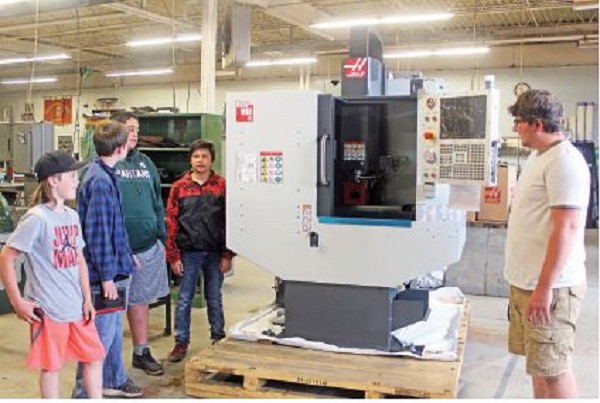 Haas Mini Mill recently purchased by the L'Anse Schools for industrial training is viewed by students and teacher. (Courtesy L'Anse Sentinel)
---
SAGINAW CTE: Schools Aim to Bolster Job Readiness
One mill, 10 Year Levy Would Fund Vocational Programs
November 3, 2018 Leave a Comment
By: Dave Rogers
Saginaw County aims to become a mid-Michigan center for workplace competency.
But voter approval is needed first.
Of the state's 56 intermediate school districts, 23 have no dedicated vocational property tax millage and often struggle to support diverse career training programs.
On Tuesday, Saginaw County residents will vote on a 1-mill, 10-year request for Career Technical Education (CTE). The proposal, if passed, would support educational opportunities for all Saginaw County students.
Wrote Ted Roelofs for Bridge Magazine, "Among 33 districts with such millages, the rate varies from a low of .62 mills in Oakland County to 4.2 mills in the Branch Intermediate School District in southern Michigan. It seems the only consistent thing in this hodgepodge vocational system is its inconsistency."
In our opinion, state legislators should look at replacing this fractured funding structure with a uniform tax support plan. The program would pay high dividends in workplace readiness to enable Michigan to compete globally and equip students with the skills to earn a living wage.
We have written here of the dire consequences of the present system which is undermining our society by leaving thousands of young people without the means to form families and thereby contributing to population losses that have gutted the K-12 schools. It also contributes to social costs burdening the state such as prison and welfare.
CTE programs would introduce Saginaw County students to workplace competencies allowing them to experience and choose from a variety of college and career paths. The interactive and collaborative environments would provide students with the academic and technical skills, knowledge, and training necessary to succeed in future careers and to become lifelong learners.
A study conducted by Thomas B. Fordham Institute shows, "students with greater exposure to CTE are more likely to graduate from high school, enroll in a two-year college, be employed, and earn higher wages. In fact, students taking more CTE classes are just as likely to pursue a four-year degree as their peers.
State the Saginaw proposal backers: "CTE students are able to earn college credit and high school credit simultaneously; therefore, saving parents and students money through articulated college courses, direct credit, industry certifications, licenses, and credentials offered. In addition to those perks, CTE courses better develop non-cognitive skills such as critical thinking, problem-solving, research, math, college application project completion, soft skills, communication, and time management. Many Saginaw County CTE program graduates have gone on to secure very successful careers right here in our region."
William Miller, of the statewide ISD association, said the stakes are high, given an increasingly specialized economy that demands more than a basic high school degree from workers who earn a decent, family-supporting wage in Michigan.
"There was a time when you didn't need more than a high school diploma to get a good job in Michigan," Miller said. "With the advance of technology, vocational programming has become more and more important."
###
---
---

Dave Rogers




Dave Rogers is a former editorial writer for the Bay City Times and a widely read,
respected journalist/writer in and around Bay City.
(Contact Dave Via Email at carraroe@aol.com)

More from Dave Rogers
---
Send This Story to a Friend!
Letter to the editor
Link to this Story
Printer-Friendly Story View
---
--- Advertisments ---