OH! DEER!!!- More and More Crashes Imperil Drivers
December 9, 2018 Leave a Comment
By: Dave Rogers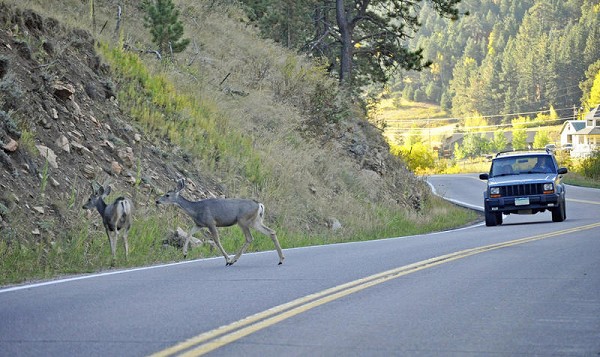 "Don't veer for deer," safety experts and police warn. (State Farm photo)
Yes, Oh Deer!
Michigan is plagued with a rash of deer/vehicle crashes that seem to be escalating.
The worst incidents have caused deaths and, in at least one case a mid-Michigan woman ended up paralyzed when an animal strayed onto the road in front of her fast-moving vehicle.
While the state's two million deer are most active in spring and fall, vehicle-deer crashes are a year-round problem, notes the state in a posting designed to alert more drivers to the dangers.
Each year, there are nearly 50,000 reported vehicle-deer crashes in Michigan. About 80 percent of these crashes occur on two-lane roads between dusk and dawn. The most serious crashes occur when motorists swerve to avoid a deer and hit another vehicle or a fixed object, or when their vehicle rolls over.
According to the state DNR, here are some tips to avoid a crash:
"Stay aware, awake, and sober.
"Vehicle-deer crashes occur year-round, but be especially alert in spring and fall. Signs are placed at known deer crossing areas to alert you of the possible presence of deer. Deer are herd animals and frequently travel in single file. If you see one deer cross the road, chances are there are more waiting.
"Be alert for deer, especially at dawn and dusk. If you see one, slow down.
Don't rely on gimmicks, flashing your high-beam headlights or honking your horn to deter deer.
"If a crash is unavoidable:
"Don't swerve. Brake firmly, hold onto the steering wheel and bring your vehicle to a controlled stop.
"Pull off the road, turn on your emergency flashers, and be cautious of other traffic if you exit your vehicle.
"Report the crash to the nearest police agency and your insurance company.
"Remember to buckle up, as seat belts are motorists' best defense in the event of a crash."
Julie Mack of the Kalamazoo Gazette, writing for MLive.com, reports: "Of the 14 people killed by Michigan deer accidents in 2016, 12 were males between the ages of 25 and 64 and nine were motorcyclists.
According to Ms. Mack, there were 1,098 crashes that resulted in 1,240 injuries to drivers and passengers. Those injuries were split exactly in half between men and women, and 48 of the victims were under age 16.
The Michigan road that ranked No. 1 for 2016 deer accidents was U.S. 31, which roughly parallels the Lake Michigan coastline from the Indiana border to the Mackinac Bridge, a total of 357 miles. No. 2 is U.S. 127, which goes 214 miles up the middle of the Lower Peninsula, from the Ohio border, through Jackson, Lansing and Mount Pleasant to I-75 near Grayling.
State Farm Insurance tells us that Michigan's number nine on the list of top-ten states where drivers are most likely to hit a deer, and the average cost for a deer-related claim is up nearly 5%, at just under $4,200.
Lt. Michael Shaw of the Michigan State Police discussed deer collisions in Michigan and how to stay safe.
"A lot of people think it's more in the rural areas, and that's not actually true," Shaw said.
In fact, according to Shaw, the metro Detroit area has the highest number of deer collisions in the state of Michigan, with Oakland County seeing the worst of it.
When encountering a deer on the road, Shaw advised keeping straight as opposed to swerving to avoid collision.
"You can actually damage your vehicle or get involved in more fatal types of crashes by veering and losing control of your car and striking a tree or something else," Shaw said.
###
---
---

Dave Rogers




Dave Rogers is a former editorial writer for the Bay City Times and a widely read,
respected journalist/writer in and around Bay City.
(Contact Dave Via Email at carraroe@aol.com)

More from Dave Rogers
---
Send This Story to a Friend!
Letter to the editor
Link to this Story
Printer-Friendly Story View
---
--- Advertisments ---