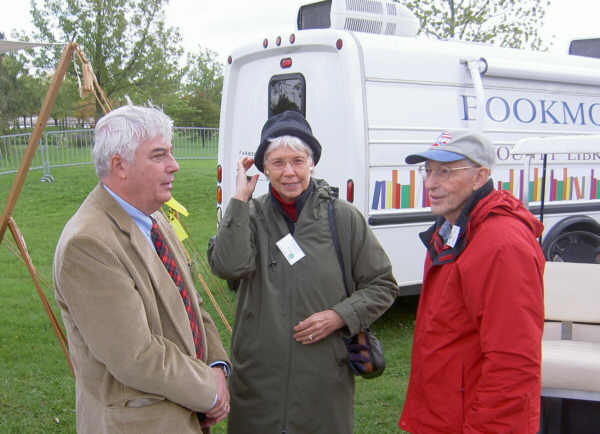 Terry Wagar, River of Time 2006 Committee chairman, greets Martha and Charles Stocker, of Augusta, Michigan, delegates to the State History Conference. Martha, nee Jackson, is a former Bay Cityan and 1952 graduate of Central High
---
Bay City Draws Thousands to River of Time,
State History Conference
2006 River of Time drew a record 700 re-enactors & about 10,000 visitors
September 24, 2006 Leave a Comment
By: Dave Rogers
Martha Jackson Stocker hadn't been back to Bay City in half a century.
She came back last weekend to see what happened to the old town.
Martha, and thousands of other visitors, were impressed.
Visitors attended the State History Conference at the DoubleTree Hotel - Bay City Riverfront, and the River of Time Living History Festival in Veterans Memorial Park.
The River of Time drew an estimated record 700 re-enactors and about 10,000 visitors, according to Terry Wagar, chairman of the event. Officers of the group include Jan Rau, vice chair; Isabelle Atwater, secretary; and Connie Tripp, treasurer; as well as Gay McInerney, executive director, Bay County Historical Society. The State History Conference attracted about 200.
---
Mike Frazho, of Bay Port, retired fundamentalist minister, preaches to President Lincoln, General Grant and a group of Union soldiers and ladies, in front of the Meyer Cabin at the River of Time encampment held last weekend in Veterans Memorial Park. Frazho and his wife, Laurene, run a sutler's store with Civil War hats and clothing, traveling to similar events all over the nation.
---
Two new developments this year at the River of Time were the Christian Cowboys, spreading the gospel through their re-enacting activities including a mock Western village, and a Sunday religious service conducted by a retired fundamentalist preacher and Civil War re-enactor from Bay Port, Mike Frazho.
Larry Wagenaar, executive director of the Historical Society of Michigan, and Gay McInerney, executive director of the Bay County Historical Society, said attendance at the conference was the highest in years. The previous two years the event was held in Lansing and Port Huron.
Old programs discovered last week in archives revealed the conference has been held here twice in the past, in 1942 and 1957, said museum officials Gay McInerney and Ron Bloomfield. Previously it had been believed this was the first time the event had come to Bay City.
History conference attendees toured the Saginaw River on the Islander of the Bay City Boat Lines, clambered to the tower of City Hall with City Planner Jim Bedell and Museum Curator Ron Bloomfield, toured ready-cut homes with architect/author Dale Wolicki and explored the depths of the Great Lakes with film maker Ric Mixter and TV personality/author Jay Brandow.
---
President Lincoln (Fred Priebe of Belleville), General Grant (Bob Mulvihill of Jackson) and other Union brass talk Civil War strategy at the River of Time.
---
Dozens of visitors saw the wonders of the Scottish Rite Masonic Center and the old Masonic Temple, with the word "awesome" on most lips, before the Saturday night celebration banquet in the dining room.
"It's amazing how much this city has changed since I left," said Martha, who graduated from Central High in 1952. she now lives in Augusta, Michigan, with her husband Charles, a retired General Motors worker. Her father was a pharmacist and her family was connected with the Bay City Electric Steel Welding Company.
The nearly 200 attendees at the State History Conference hailed from all points on the Michigan map and one couple, G. Michael Gallagher and Dr. Rita Munley Gallagher, came all the way from Washington, D.C. to attend. Both are Bay City natives. Dr. Gallagher is senior policy fellow of the American Nurses Association and Mr. Gallagher is a consultant.
---
--- Advertisements ---



---
Herman Lunden Miller of Ann Arbor and Lewiston, who with his wife Dorothy, attended the State History Conference, already had extensive knowledge of Bay City through his family that had background in the lumbering industry.
Miller, a noted physicist, wrote a book about the family business: "Lumbering in Early Twentieth Century Michigan: The Kneeland-Bigelow Company Experience." The book is based on papers of his grandfather, Herman Lunden, an executive with the Kneeland, Lunden and Bigelow Company. The firm operated a flooring mill in the large buildings on Marquette Avenue now owned by Fletcher Oil Co.
Local Union Army re-enactor Len McInerney explains Civil War events to a family accompanied by a cat on a leash.


River of Time Chair Terry Wager talks with visitor Dolores Barron-Rogers, left, and re-enactor Dee Dee Wacksman outside Trombley-Centre House about the record turnout at the encampment this past weekend.
Colorfully dressed re-enactor passes Western village erected by Christian Cowboys organization at River of Time. The organization does Christian outreach through a "Sagebrush" church and interaction with re-enactors at such events.
---
--- Advertisements ---



---
MyBayCity.com has covered the River of Time since 2003.
Take any of these links for prior year coverage:

2018.a, 2018.b
2017.a, 2017.b, 2017.c,
2015, 2014, 2013,
2012, 2011, 2010, 2009,
2008, 2008, 2008, 2008,
2007, 2007,
2006, 2006,
2005, 2005, 2005,
2004, 2003,
---
---

Dave Rogers




Dave Rogers is a former editorial writer for the Bay City Times and a widely read,
respected journalist/writer in and around Bay City.
(Contact Dave Via Email at carraroe@aol.com)

More from Dave Rogers
---
Send This Story to a Friend!
Letter to the editor
Link to this Story
Printer-Friendly Story View
---
--- Advertisments ---