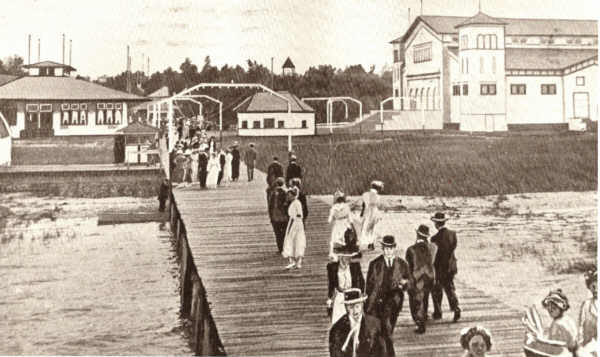 Drawing from Wenona Beach book depicts boardwalk that stretched out 200 feet into Saginaw Bay from the shoreline.
---
Author J.R. Watson Reissues Ever-Popular Wenona Beach Book
Historical Society Hosts Book Signing for 7 Local Authors
November 18, 2007 Leave a Comment
By: Dave Rogers
J.R. Watson, who grew up near Wenonah Beach and worked at the busy amusement park at age 12, has reissued his 80 page picture book about the attraction.
Mr. Watson and other local authors were guests at a book signing event last Saturday at the Bay County Historical Museum.
Other authors included:
Pat Drury, "Recipe for a Community;"
David Goss, "Danny;"
Leon Katzinger, who has published a series of Bay City historical photo books including "Vintage Postcards of Bay City;" Jo Ann De Matteo, "Cranberry Lake;"
D. Laurence Rogers, "Paul Bunyan: How A Terrible Timber Feller Became a Legend," and "Ghosts, Crimes and Urban Legends of Bay City, Michigan;" and
Odeal Sharp, "Country Schools of Bay County, Michigan."
Mr. Watson's book on Wenonah Beach was first published in 1988 and sold out 8,000 copies. (See "Ah, Nostalgia! Wenona Beach Amusement Park Closed 40 Years Ago," MyBayCity.com, Oct. 23, 2005.) Because of incessant demand since the book was out of print, Mr. Watson decided recently to reissue it.
"People always ask me about the casino at Wenona Beach and I have to explain that the meaning of casino originally had nothing to do with gambling," said Mr. Watson. "The word casino meant just a large building in which to have fun. There was never any gambling at Wenonah Beach."
---
--- Advertisements ---

---
Bay Cityans have long puzzled about the various spellings of Wenona that are used to designate streets, buildings and parks. Wenona is the beach and the avenue; Wenonah is the park, the hotel and the excursion boat. No one knows exactly why these spellings have been adopted. "That's just the way it is," says Mr. Watson. Of course, the name originally came from Henry Wadsworth Longfellow, who wrote the epic poem, "Hiawatha," in 1865. The name of Hiawatha's mother was "the beautiful Wenonah."
Longfellow drew inspiration for his poem from the works of Henry Rowe Schoolcraft, one of the original investors in Bay City, along with the "boy governor" Stevens T. Mason. Thus came the conclusion that Hiawatha was based on Indian lore from the Saginaw Valley.
The wives of lumber barons Henry (Jane) Sage and William (Jenny) McGraw, entranced by the poem, decided the name for the village of Lake City instead should be Wenona, incorporated as a village in 1865. Later it became West Bay City and in 1905 merged with the east side village of Bay City, incorporated in 1859, to become the City of Bay City.###
---
---

Dave Rogers




Dave Rogers is a former editorial writer for the Bay City Times and a widely read,
respected journalist/writer in and around Bay City.
(Contact Dave Via Email at carraroe@aol.com)

More from Dave Rogers
---
Send This Story to a Friend!
Letter to the editor
Link to this Story
Printer-Friendly Story View
---
--- Advertisments ---