Two of the Six Appledore Tall Ships Call Bay City Home Port
From World Sailing Odysseys to Saginaw Bay, Appledores Make History
September 4, 2005 Leave a Comment
By: Dave Rogers

The two Appledores of Bay City, Appledore IV and Appledore V, are moored at Wenonah Park.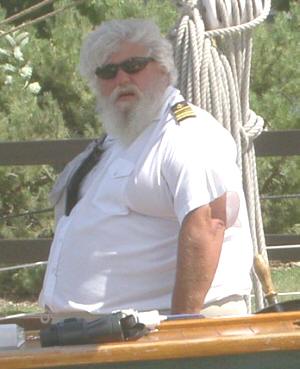 Looking for all the world like a pirate in sunglasses, Capt. Guy Parks, Master of Appledore IV, is at the helm for a recent cruise into Saginaw Bay.
Appledore is fast becoming a legendary name for tall ships: there are six of them, and two, Appledores IV and V, operate out of the Wenonah Park dock in Bay City.
Among the other sister ships, the 61-foot Appledore III has circumnavigated the globe three times and is now chartered out of Rockport, Massachusetts. The 65-foot Appledore II sails out of Key West, Florida, on winter charters and out of Camden, Maine, summers.
The story of how the ships came to be is an incredible one that is already the subject of two books. Nonetheless, the Bay City connection bears brief recounting here because the Appledores have become symbols of life today in this community.
My grand-daughter, Claire Elizabeth Anderson, 5, and myself shipped out for a cruise with Capt. Guy Parks and crew the other day just to see for ourselves what a trip on a famously-named schooner is like.
Also aboard were a dozen or so happy souls seeking the joy of sailing on soft breezes on a perfect latesummer afternoon. Mostly older folks, like myself, we nodded appreciatively to each other as we sat on pads on the port side while the crew cast off.
Under the stern eye of the ship master, who was not averse to barking a symbolic order or twoto "tighten up," or "secure that line," we soon got the idea that aboard ship things are strictly business.
Claire sipped on a bottle of water and naively tried to get preoccupied passengers to play "rock, paper scissors" with her, a request Ivainly tried to discourage. She soon found her sea legs and clambered into the cabin and explored the foremast area.
Down below we found a copy of "Dreams of Natural Places: A New England Schooner Odyssey," authored by Herbert Smith, a Disneycinematographer and patron saint of the Appledores.
Herbert and Doris Smith also wrote another book, "Sailing Three Oceans: Building and Sailing the Schooner Appledore." I found the books on Amazon.com and the last-mentioned has already arrived and been added to my reading list and library.
As the Smiths recount in their 213 page book, published by the aptly named Down East Books of Camden, Maine, the odyssey began with the couple's decision in 1972 to build a 48-foot wooden schooner in a friend's backyard in Portsmouth, New Hampshire.
Bud McIntosh, designer and boatbuilder from nearby Dover, came on to help Smith complete the construction task he had been trying to tackle alone.
Appledore I was finished in between stints filming icebergs and wildlife in the Artic for Disney. On May 8, 1974 the vessel was sailed down the Piscataqua River between Maine and New Hampshire. It was the first sailing trip for Doris, a lobsterman's daughter, whom Herb had met at her father's house on, where else, Appledore Island, near Gosport Harbor at the Isle of Shoals. (Besides the island in the U.S., Appledore is a shire (town) in Kent County, England.)
Six months and a lot of elbow grease later Appledore I was ready for chartering. New sails and rigging soon survived two knockdowns in an 80 knot wind off Boothbay Harbor, Maine. But the charter service aboard the schooner was successful.
And so was the marriage, that occurred in the same venue -- aboard the Appledore I. The adventuresome pair soon lit out on a six month honeymoon cruise to the West Indies, aboard the Appledore of course.
After spending the winter in the Caribbean, the couple followed the wind back to the U.S. where, the following year, son Tom was born in Key West, Florida. The boy was sailing at age two -- two days, and made two world trips along with his newborn sister, Lisa, who joined up for the second trip.
The book recounts a more exciting sailing experiences thana three hour daysail on Saginaw Bay. However, unforgettable scenes like the Port Huron to Mackinac racer Dolphin, with Larry Ruhland at the helm, heeling with the wind exciting a group of guests aboard, are priceless.
The Dolphin, they say, has a habit of sailing rings around the Appledore, just to show they can do it, and that's almost worth the trip itself.
The world travels of Appledore II, a 65-footer, were the subject of the "Dreams" book. Appledore III's 56 feet, which took shape north of New Hampshire's White Mountains, followed Magellan's journeys around the tip of South America, also visiting Pitcairn and Easter islands and Tahiti.
Appledores IV and V, both berthed in Bay City for Bay Sail, Inc., and non-profit educational organization, are the only steel ships in the Appledore line.
Appledore IV was sold to Bay Breeze Charters in Traverse City, Michigan. She also sailed out of Charlevoix, Michigan, and Erie, Pennsylvania, before being purchased by BaySail in the spring of 1998.
Appledore IV, a topsail schooner, was designed by Bud McIntosh and built in 1989 by Treworgy Yachts, Palm Coast, Florida. It is a 72-ton vessel 85 feet long with an 18 foot, five inch beam. It is licensed to carry 52persons, including crew, and sleeps 14, although it sails with a minimum of captain and three crew.
Appledore V was called Westwind by the Traverse Tall Ship Company until acquired by BaySail in October, 2002. The ship was rechristened in spring, 2003, as Appledore V. Sponsored by the Dow Chemical Co., Appledore V provides environmental education programs for school children, high school and college students.
Appledore V is 65 feet long with 14 foot beam; it displaces 34 tons and ispowered by a 90 horsepower diesel. It is licensed to carry 32, including crew, and sleeps 12. It also sails with a minimum of captain and three crew.
Both Bay City Appledores remain at Wenonah Park dock in the water during the winter with bubbling systems to eliminate ice damage.###
---
---

Dave Rogers




Dave Rogers is a former editorial writer for the Bay City Times and a widely read,
respected journalist/writer in and around Bay City.
(Contact Dave Via Email at carraroe@aol.com)

More from Dave Rogers
---
Send This Story to a Friend!
Letter to the editor
Link to this Story
Printer-Friendly Story View
---
--- Advertisments ---